MALTA – There aren't enough superlatives in the English language to properly describe the 100-lap Super DIRT Series race that highlighted Day 2 of Malta Massive Weekend Saturday night at Albany-Saratoga Speedway.
So let's just stick to the facts.
Mike Mahaney recorded the first Super Dirt Series win of his career, pocketing a sponsored-inflated payday of $13,000.
On his way to the checkered flag, he waged an incredible, mind-blowing, intense, jaw-dropping …
Hey, maybe there are enough adjectives.
All Mahaney did was hold off a (insert your own adjective) comeback from Stewart Friesen, who raced in the Camping World Truck Series race in Las Vegas on Friday night, caught a redeye flight back to the East and wound up at Malta in plenty of time to put on a show that fans will be talking about for years to come.
"Whoo, finally," declared Mahaney in victory lane. "I finally got a good draw tonight. I'm so proud of my team. They've worked so hard for the last three years to get me here."
Mahaney sat on the outside pole following the redraw. But this was no flag-to-flag win.
Hardly.
Yes, Mahaney get the lead on lap two, after polesitter Tom Sears Jr. led lap one. But the focus wasn't on Mahaney. After the first caution flew on lap 10, when James Meehan spun around in the fourth turn, all eyes were on Sears, Anthony Perrego and Ronnie Johnson, who were fighting tooth and nail for second.
Little did anyone realize at the time that the feature would then run off 70 straight green flag laps.
The leaders caught the tail end of the field by lap 25, and three laps later, Perrego moved into second and began to catch Mahaney.
With Mahaney sticking to the low line and Perrego running the top, they continued to run side-by-side, but were also pulling away from the rest of the field.
Perrego snatched the lead on lap 39, diving low out of the fourth turn, and then moving high between one and two to slam the door of Mahaney.
Fans who were watching the action up front were missing a show by Friesen. After time trialing fifth in his group, Friesen failed to get a qualifying spot in his heat and then went on to win one of the last-chance showdowns, which put him 21st in the starting grid.
But by lap 47, he was up to fifth, and everyone in the grandstands knew what was coming.
Perrego survived a close call on lap 60, when he narrowly missed Bobby Hackel IV, who was slowing to enter the pits, and two laps later, Friesen got past Sears for fourth.
Perrego, the 2021 modified champion at Albany-Saratoga, had his shot at a Super DIRT Series win go out the window on lap 69, when he suddenly pulled into the infield, the victim of rear end problems.
Guess what? That gave the lead back to Mahaney.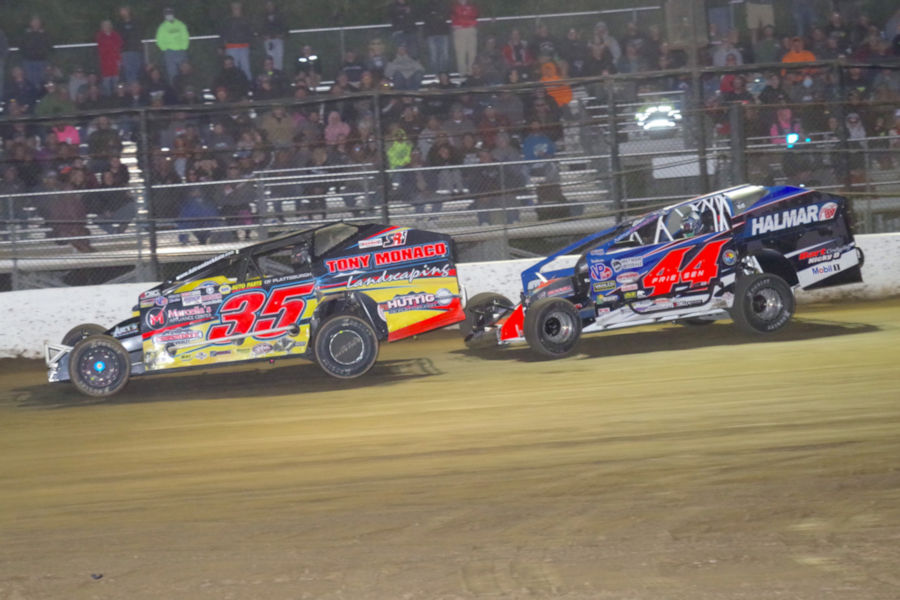 By the time Friesen got around Johnson for second with 30 to go, Mahaney had a full straightaway lead.
Then, after 70 green flag laps, the final caution came out on lap 73, when Sears suffered a flat tire.
Then, to put it simply, things got squirrelly.
On the restart, Mahaney got a good jump off the inside, but when he drifted to the top going into the first turn, Friesen dove to the inside and pulled a slide job, moving up in front of Mahaney in the second turn. But Mahaney just eased back to the inside and had the lead again going into three.
And for 17 laps, they continued to run side by side, or nose to tail, or anyway they could, as Friesen tried to find a way to get around Mahaney's Adirondack Auto-sponsored Bicknell.
On the final lap, Friesen gave it one last shot, and tried another slide job, this time between three and four. He again got in front of Mahaney in the short chute, but Mahaney again pulled to the inside and had Friesen clinging to his rear bumper as they took the checkered flag.
Phew!
"That was a fun race. I thought I had him the last time, but I just got into the fluff and couldn't hold it," said Friesen after the race.
"Every time he threw something at me, I threw it right back," said Mahaney after chalking up his fourth career win at Albany-Saratoga. "To put on a battle like that with Stewart on my home track, it's unreal."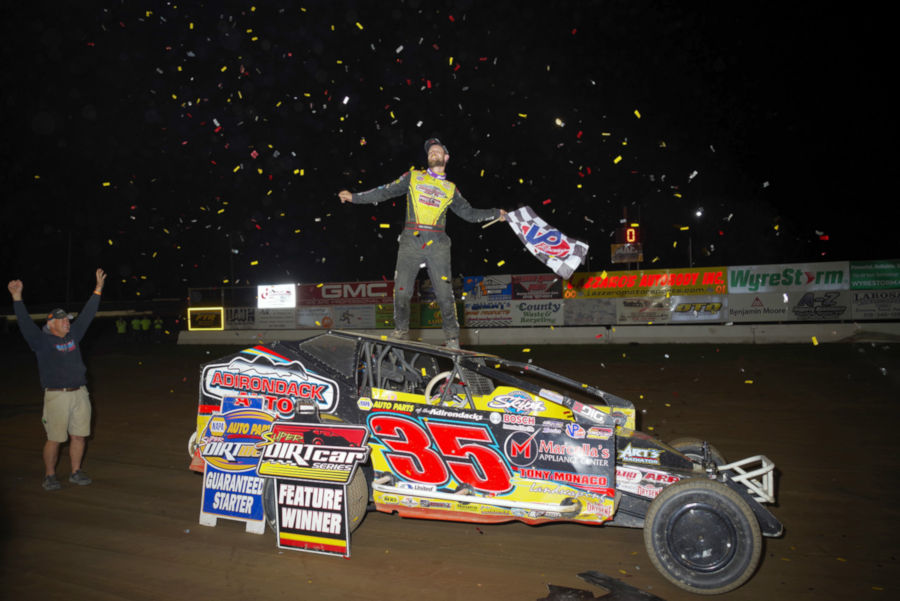 The winner's share was originally announced as $10,000, but Northeast Paving and Sealcoating kicked in $1,000, and then on Saturday night, Big Al's Sealcoating and Crack Filling and Bart Contracting each kicked in $1,000 each, giving Mahaney a $13,000 pay day.
Super DIRT Series point leader Matt Sheppard finished third, with Johnson fourth and Peter Britten fifth. Mat Williamson, who had won the 50-lap "Fall Foliage" race for 358 modifieds on Friday, was sixth.
Friesen won the hard charger award, while Sheppard set fast time, stopping the clock in 15.397 seconds in time trials. That's the fastest time ever run during Super Dirt Series time trials at Albany-Saratoga
Jason Meltz won the 30-lap DIRTcar Pro Stock Series race in a finish that was even more dramatic then the modifieds.
Early in the race, Luke Horning waged a battle with the Crane brothers, Chris and Rich, who had started second and fourth, with Chris Crane leading the parade.
After a rash of cautions, the leaders got down to some serious racing, and on lap 18, Rich Crane got around Horning for second. But Horning quickly regained the No. 2 spot, and moved into the lead when Chris Crane slowed to a stop on lap 19.
Meltz, who started third, jumped into second when Chris Crane slowed and took the lead away from Horning on lap 25. But two laps later, Horning was back in front, setting the stage for a wild finish.
Meltz and Horning were side-by-side as they took the white flag and stayed on the final circuit. But as they went through the fourth turn, they made heavy contact, with Horning spinning out in front of the field, while Meltz charged to the finish line. Horning slid down the track into the path of Jay Casey, who slammed into the rear of Horning's car, went into a violent flip and wound up on his wheels in front of the billboards on the frontstretch.
After DIRTcar officials ruled the incident was a racing accident, Meltz got the win, with Rob Yetman second, and Nick Stone third. Rich Crane and Scott Towslee completed the top five.
Chad Jeseo won the Michael's Automotive Dash for Cash, which was worth $250.
The final event of the 2021 season was the 30-lap limited sportsman feature, with Mike Parodi getting the victory and taking home the top prize of $1,000.
Parodi started on the outside pole, but had to hold off a late challenge from Justin Lilly to chalk up the victory. Dylan Madsen, Taylor Wason and 2021 champion Bryce Breault completed the top five.
Michael's Automotive also sponsored the limited sportsman dash, with Phil Arnold getting the $250 bonus.
SUPER DIRT SERIES (100 laps): MIKE MAHANEY, Stewart Friesen, Matt Sheppard, Ronnie Johnson, Peter Britten, Mat Williamson, Demetrios Drellos, Larry Wight, Billy Decker, Chris Hile, Jack Lehner, Tom Sears Jr., Jimmy Phelps, Max McLaughlin, Adam Pierson, Dave Marcucilli, Erick Rudolph, Pat Ward, Jordan McCreadie, Jessey Mueller, Don Ronca, Anthony Perrego, Kevin Root, Bobby Hackel IV, Tyler Trump, James Meehan.
DIRTCAR PRO STOCK SERIES: JASON MELTZ, Rob Yetman, Nick Stone, Rich Crane, Scott Towslee, Chuck Dumblewski, Zach Seyerlein, Chad Jeseo, Justin White, Jay Fitzgerald, Ivan Joslin, Brian Carter, Dave Stickles, Ken Griffen, Shane Henderson, Jeff Meltz Sr., Ian Bressett, Doug Sheely, Luke Horning, Jay Casey, Jason Casey, Burton Ward, Jordan Modiano, Chris Crane, Mike Baker, Jimmy Eaton, Josh Coonradt.
LIMITED SPORTSMAN: MIKE PARODI, Justin Lilly, Dylan Madsen, Taylor Wason, Bryce Breault, Mike Arnold, Dan Seguin, Mark Burch, Scott Bennett, Jimmy VanZandt, Mike Hill, Shane Powell, Jess Reis, Jon Coon, Bill Dupree, Wade Acker, Steve Burch, Dave Fachini, Kyle Dingman, Brady Cordova, Dakota Green, James Hinman Jr., Chris Crane Jr., Pete Lorenzo, Nick Auspelmyer, Mike Canastra, Nick Arnold, Wesley Sutliff, Hunter Ordway, Phil Arnold.
The post
Mahaney holds off Friesen in SDS thriller at Albany-Saratoga
appeared first on
Albany-Saratoga Speedway
.
Continue reading...