There are events that are etched indelibly in your mind. I know exactly where I was when President John F. Kennedy was assassinated, I know exactly right where I was when Neil Armstrong set foot on the moon, and I know exactly where I was when Dale Earnhardt Sr. died.
And I know exactly where I was when Jack Johnson recorded his final win ever at Fonda Speedway … because I was standing in victory lane, waiting for him.
First, you need a little background. I first met Jack in the spring of 1980. I had been hired as a sportswriter at the Schenectady Gazette in January, and one of my selling points was expanding the stock car racing coverage. At the time, John Grady was doing a weekly column, but no one was actually covering local racing for the Gazette. I had spent some Saturday nights at Fonda during my teenage years, watching the weekly battles between Bill Wimble, Steve Danish, Lou Lazzaro and all the other legends who raced there in the 1960s, so I figured I could swing it.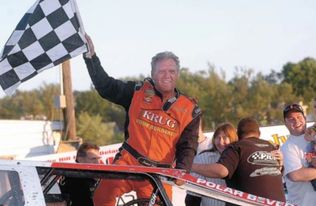 Before taking the job in Schenectady, I had worked in Oneonta for five years and didn't really follow dirt track racing that much, with the exception of occasional stories about Art Kiser and Earl Mewhorter, who were out of the Oneonta area. So when I wanted to preview the 1980 season in the Capital Region, I went all in, opening with a feature on Jack Johnson, who had won the Schaefer 200 at the New York State Fairgrounds in Syracuse in 1979, the first time a New York-based driver won the October Classic.
I spent a couple of hours in Jack's shop on Pangburn Road in Duanesburg, picking his brain, learning about his past and how he hoped to shape his future, and that's how I began chasing Jumpin' Jack around.
And I do mean chasing. From 1980 to 1995, when I was promoted to assistant sports editor at the Gazette and handed the stock car racing coverage over to someone else, I figure I watched Jack win roughly 150 races combined at Fonda and Albany-Saratoga, and a couple of handfuls more at places like New Venture, Lebanon Valley, Devil's Bowl and the New York State Fairgrounds.
Now, getting a quote from him at Fonda in those days was fairly simple. The haulers were parked in the infield, and because I always watched the races from the infield, it was easy to latch onto the winner minutes after the race had ended.
Albany-Saratoga was a different story. I would watch the races there from the tower and then have to hustle back to the pits when the modified feature was over. On many a Friday night, Jack and his family were already gone by the time I got to the pits.
Not that it would have made a lot of difference. His stock answer was usually something like, "We just had a little more than the other guys tonight." If he had really found something in the garage during the week that gave him an advantage, he certainly wasn't going to tell me about it.
Oddly enough, I don't remember a lot of Jack's victories, but that's probably because there were so many of them. Friday nights, Saturday nights, the orange 12A, they're all a blur. At one time, he was winning so much that people who read my stories started to ask me, "Why do you always write about Jack? Why not write about someone else?" Because I was writing news stories, and the winner always gets the headline.
I probably remember two races that he didn't win more than anything. On two occasions, he had a shot at breaking Danish's record of seven straight wins at Fonda, and both times, C.D. Coville hauled in and broke the streak, enhancing one of the best rivalries in dirt track racing.
Anyway, back to May 30, 2009. It was the first night of the Stanley Cup Finals between the Pittsburgh Penguins and the Detroit Red Wings, but I had been sitting around, doing nothing, all day and was getting antsy. So I decided to head to Fonda.
Even though I wasn't covering racing anymore, I still got my fix every once in a while, so it wasn't like I had been away for ages when I walked through the back gate that night. As was customary in those days, Jack and Ronnie Johnson occupied the first two pit stalls across from the Cow Palace. So naturally, that's where I headed.
Jack saw me coming, smiled with that trademark toothpick dangling out of his mouth, and said, "You must be lost."
"Hockey doesn't start for another hour or so, and I didn't want to just sit on a barstool, so I figured I'd see what you were up to," I answered.
Turns out, I spent the rest of the night at the track, watching Jumpin' Jack pick up modified win No. 149. I walked out on checkerboard square, watched him roll across the grass and stuck my head into the car as he rolled to a stop.
"Must be I was supposed to be here to see you win again," I said.
"I didn't want you to come all this way for nothing," he answered.
That was the last race Jack ever won at Fonda. Later in the year, he was involved in a grinding crash at the Track of Champions and during treatment at the hospital, doctors discovered cancer in his right lung.
During treatment for the cancer, Jack began to lose feeling in his arms, and then began to lose muscle mass, the first signs of Lou Gehrig's Disease, or ALS. Maybe it was triggered by the cancer treatment, maybe it was triggered by the wreck. No one really knows. Despite the disease, he continued to make weekly trips to Fonda for the next couple of seasons to support Ronnie's racing career. He would sit in a van in the infield, facing the backstretch along the Mohawk River and watch the action. When Ronnie won his first championship in 2011, Jack joined him in victory lane, even though, by that time, he had lost the use of his arms. But his legs and his smile still worked fine, and few noticed the disability on that night of celebration.
Jack's long battle with ALS finally ended on Thursday, April 1. He was 76. His legend will live forever.
The post
Jack Johnson's Legacy Will Live Forever
appeared first on
Albany-Saratoga Speedway
.
Continue reading...